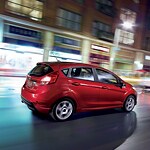 When it comes to subcompact cars, the automobile industry has more than enough options to choose from. The Ford Fiesta is no exception to the rule and for good reasons. This vehicle comes in a range of exterior colors, is advanced in technologies, and offers superior handling.
The Ford Fiesta has eye-catching looks thanks to its fluid design. This subcompact car hosts a sweeping design from front to back without any breaks. Some of the best features here are the LED lights. These lights have a piercing glow, and their design looks like human eyes. The vehicle's hood slopes gently down into the front fascia in one continuous motion. The car's windshield has a sharp slope as well as the side windows. Exterior colors come in bay mint, rapid red, lightening blue, shadow black, ingot silver, and more.
Visit our dealership today for more in-depth details or for a free test drive.