2023 Ford Explorer Maintenance Schedule
The 2023 Ford Explorer is a versatile and reliable midsize SUV that has been a popular choice for families and adventurous drivers at dealerships like the Cottonwood Ford dealer for decades. With its spacious interior, powerful engines, and cutting-edge technology, the Ford Explorer offers a comfortable and connected driving experience. Whether you're driving in the city or heading out on a road trip, the Ford Explorer is designed to meet the needs of modern drivers and provide a smooth and enjoyable ride.

Maintaining your 2023 Ford Explorer is crucial for preserving its performance and longevity. Regular maintenance visits will help keep your SUV running smoothly for years to come. If you're uncertain about your vehicle's maintenance schedule, consult your owner's manual or contact Winslow Ford, the Cottonwood Ford dealer. We're always happy to assist you!

Here are some highlights of your 2023 Ford Explorer's scheduled maintenance visits.

10,000 Miles
Your first maintenance appointment includes an oil and oil filter change. This important service helps ensure the engine continues to run properly. Other services performed during this visit include a tire rotation and a comprehensive inspection of crucial systems such as the brakes, exhaust, cooling system, suspension joints, drive shaft, and steering linkage. These services will be repeated during every scheduled maintenance appointment.

20,000 Miles
At 20,000 miles, in addition to the services performed every 10,000 miles, the technicians will replace the cabin air filter. This part filters out pollen and pollutants to improve the air quality inside the vehicle. This simple task can have a significant impact on your passengers' well-being and comfort.

30,000 Miles
When your Escape reaches 30,000 miles, the service technicians will replace the engine air filter. This part is crucial for preventing dust, dirt, and other particles from getting into the engine and causing damage to the internal components. A clogged or dirty air filter can diminish engine performance, lower fuel efficiency, and cause problems like stalling and misfiring.

100,000 Miles
At the 100,000-mile mark, in addition to the regular services, the technicians will install new spark plugs and change the coolant. They'll also check the accessory drive belt to make sure it's functioning correctly.

150,000 Miles
At 150,000 miles, you'll appreciate the dependability of your 2023 Ford Explorer. At this milestone, the service technicians will replace the accessory drive belt if it hasn't been changed yet. They'll also replace the automatic transmission fluid and the timing belt. These services are important for maintaining the longevity and reliability of your vehicle.

If it's time for your vehicle's scheduled maintenance appointment or you have any questions about your 2023 Ford Explorer service, contact the Winslow Ford Service Center at 928-237-9767. Or book your visit online. Our service center team is committed to providing outstanding service. We're eager to help keep your Ford Explorer in top condition.

The Winslow Ford Service Center is located at 840 Mike's Pike Street in Winslow, just off I-40, easy to reach from the Cottonwood area. We look forward to welcoming you to our dealership!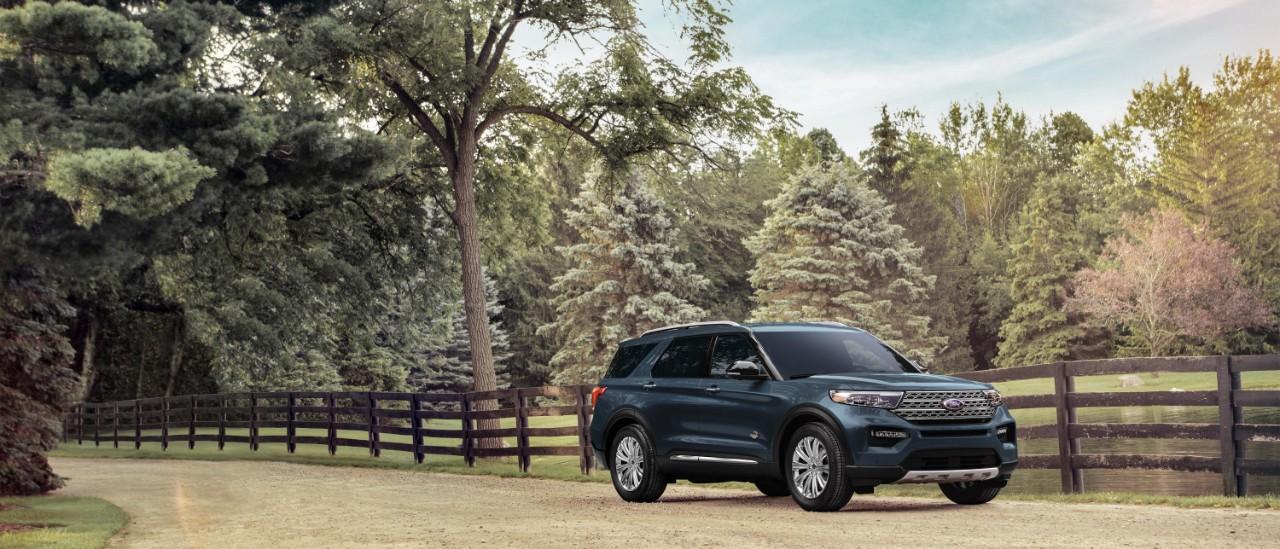 Service
Monday

Tuesday

Wednesday

Thursday

Friday

Saturday

Sunday

Closed
2022 Ford F-150 For Sale Near Flagstaff
Exterior

White

Engine

2.3L EcoBoost I-4